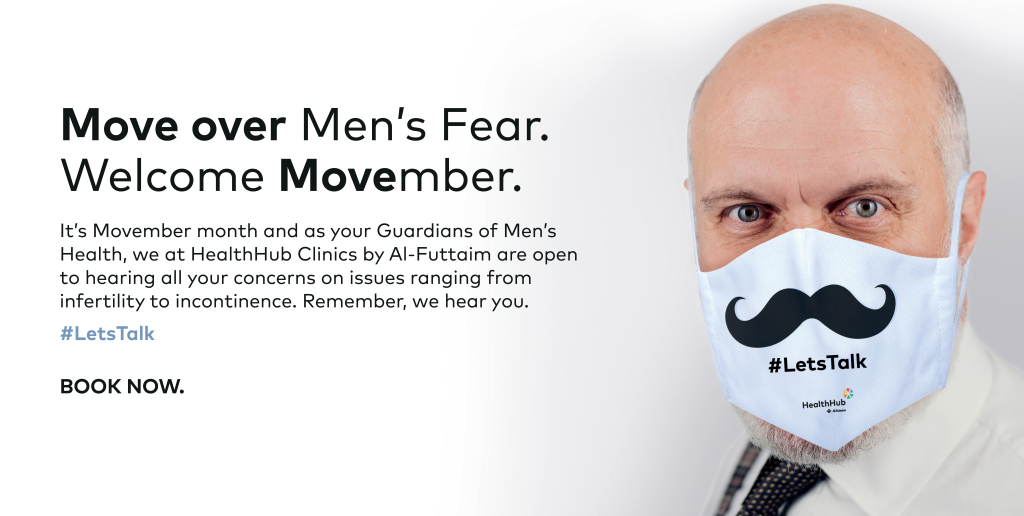 BLOG FOR MOVEMBER MONTH: PROSTATE
Over 50?
Get your prostate checked.
#LetsTalk
Prostate is a male reproductive gland that secretes most of the fluid portion of the semen. The prostatic liquid helps sperms stay alive and helps the sperm cells to penetrate the female egg for successful fatherhood.  
Prostate diseases occur due to hormonal changes happening after the age of 40, and the inflammation in the gland itself which may or may not be due to an infection. It can also be caused by cancer developing from the prostatic cells.
Every man needs to get his prostate checked, regardless of experiencing symptoms after the age of 50, and men with a family history of prostate cancer should get it checked as early as at 45.   
Can I do a test, right away?
Of course, you can!
Symptoms related to prostate enlargement can be evaluated by a self-administered questionnaire (IPSS: International Prostate Symptoms Scoring- IPSS).
Please check your symptoms at the link below and let us know if you have concerns about your score.
What are the different kinds of Prostate?
Benign prostate enlargement (BPH- benign prostatic hyperplasia)
Prostatitis (Inflammation of the prostate): This is the most common prostate-related problem in men under 50
Prostate Cancer
BENIGN PROSTATE ENLARGEMENT
After the age of 45, men undergo some hormonal changes. One of the most prominent hormonal changes is the conversion of male hormone testosterone to a different form called DHEA (dihydroepiandrostenadion).
DHEA is an inactive form of the male hormone that only affects hair follicles and prostate tissues. Sometimes a rise in DHEA, promotes cells in the prostate to increase thus enlarging the prostate. This growth is not cancerous but may cause urinary problems and affect kidney functions.
PROSTATITIS
Prostatitis is an inflammation of the prostate tissues and isn't largely contagious. The symptoms are similar to those suffering from benign prostatic hyperplasia or urethritis (inflammation of urethra).
There are two types of prostatitis, or inflammation of the prostate:
Acute infectious prostatitis
This can manifest suddenly and the symptoms may be severe with painful and frequent urination, a decreasing urinary stream and urinary retention, fever and chills, and low back pain. It can be caused by a virus or bacteria. In severe cases with high fever, even hospitalization may be required.
This is the most common form of prostatitis and the most long-lasting. Common symptoms include frequent urination, low urine flow rate, sexual dysfunction, pain in the lower back, lower abdomen and pelvic region. The symptoms are worsened by nicotine, caffeine, stress, and alcohol. Treatment should only be initiated flowing a careful evaluation of the condition. Use of unnecessary antibiotics may complicate the treatment success rates.
PROSTATE CANCER
There's a 95% success rate, if you get it diagnosed early!
Prostate Cancer is the most common form of cancer in men. It is a relatively slow growing tumor which can be treated almost to a 95% success rate when diagnosed in early stages.
It doesn't reveal cancer specific symptoms until very late stages. That's why an annual prostate check-up is crucial after the age of 50 and after the age of 45 for those with family history of prostate cancer. The initial detection of cancer relies mostly on PSA (prostate specific antigen) blood testing and urological examination.
In case of any suspicions on detecting prostate cancer, multiparametric MRI imaging and prostate biopsy is suggested. New technologies such as prostate multiparametric MRI imaging are also available at your nearest Healthhub Clinic.
Get your special Movember Covid Mask from HealthHub Clinics to help spread the word. Share your pic with our mask and tag a friend. Get a FREE Consultation with our Consultant Urologist. #LetsTalk
To know more, call 800 2344 to book an appointment at HealthHub Clinics by Al-Futtaim today.