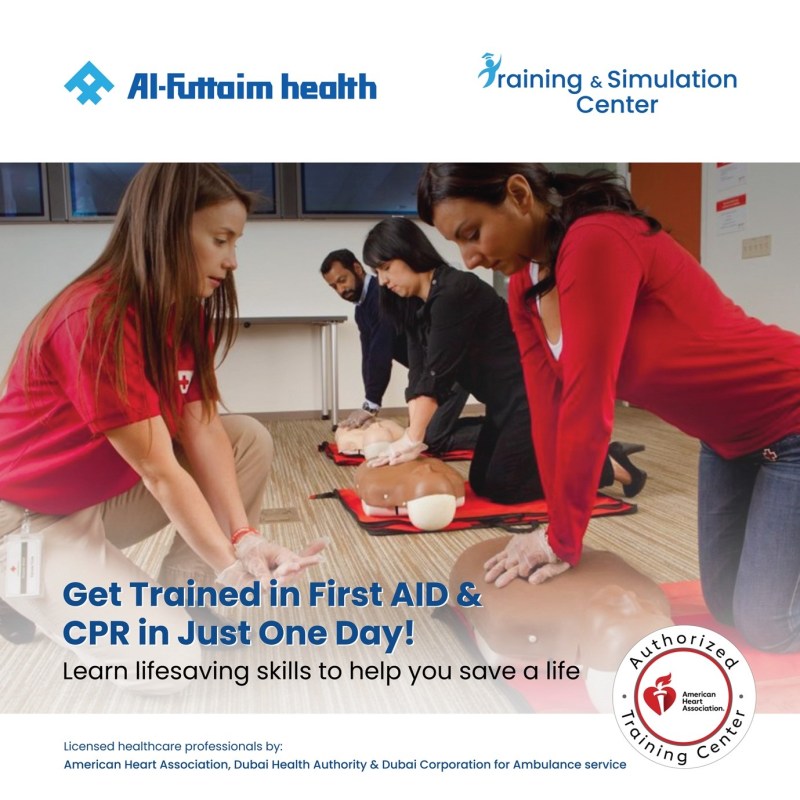 A must-have FIRST AID & CPR training from the experts!
Just how quick are you to act during an emergency requiring your first-aid help?
A sudden illness or accident can happen without warning to your child, co-worker or family member, so being equipped to react fast and administer first aid is a crucial skill in saving lives and aiding recovery.
At Al-Futtaim Health Training and Simulation Centre, we offer expert CPR and first aid courses to individuals, families, corporate clients and healthcare professionals.
The topics taught are key life skills, keeping in line with the vision of Dubai Heart Safe City's initiative – aimed at increasing the survival rate of cardiac arrests occurring out of hospitals.
All our instructors at Al-Futtaim Health Training and Simulation Centre are experienced healthcare professionals licensed by American Heart Association (AHA), Dubai Health Authority (DHA) and Dubai Corporation for Ambulance Service (DCAS).
We have industry experts, smart technology, and knowhow across 25 specialties across a network of 12 clinics in Dubai.
Al-Futtaim Health is the UAE's only chain of primary care clinics to be internationally accredited in quality and patient safety.
Working individuals (for workplace safety).
Sports people/those involved in sporting events.
New parents
School or nursery teachers
Lifeguards
Caregivers or nannies (courses available in multiple languages).
Students leaving for university (or any children 12 years or above).
Any person interested in becoming a certified first aid responder.
Healthcare professionals (for AHA life support courses).
How is the training conducted?
Use of interactive mannequins with relatable scenarios.
Instructor-led, live classroom-based sessions.
Hands-on, skill stations for performing CPR & first aid skills.
Comprehensive skills testing.
Expert coaching & debriefing.
What does our training session cover?
First Aid for common emergencies at home, work & sports.
Emergency Paediatric First Aid.
Adult, child & infant CPR.
Management of choking (adult/child/infant)
Managing cardiac arrest & medical emergencies.