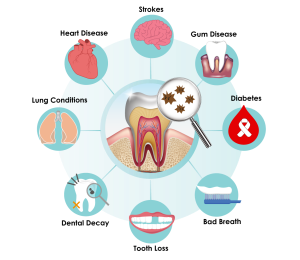 Most people are so busy sorting out their lifestyle, visiting a dentist is the last one on their to-do list! Until of course, the time comes when it gets really serious, and you rush to find the best dental clinic in Dubai.
Our mouths are literally an open gateway for bacteria to enter your body. Bacteria build-up in your mouth eventually enters the blood stream, causing infection or inflammation in other parts of your body. An infection can cause tooth abscess, which can lead to tooth loss, and pus. It's far worse if it's broken teeth that are ignored, as the gums swell and cause immense pain that spirals into headaches and becomes a serious roadblock in your everyday life.
Ignoring your 'tooth call' can lead to the following damages to your health:
Heart-related dangers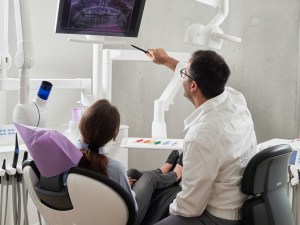 Disregarding oral hygiene can lead you to cardiovascular disease. Bacteria in the bloodstream from an infection causes plaque build-up in your arteries, leading to a heart attack.
Memory loss
Infected gums release chemicals that can affect your brain cells. It happens when bacteria spreads to the nerves eventually causing dementia or loss of memory.
Breathing issues
Respiratory infections, pneumonia and bronchitis are caused by 'gum' bacteria that enters your lungs, creating difficulty in breathing.
Prostate issues
Periodontal diseases and prostatitis which causes prostate related problems are directly linked to poor dental health!
Sweet tooth?
Watch it! Gum disease is known to raise blood sugar levels putting sweet-lovers at risk for developing diabetes. Say goodbye to those candies and chocolates. Their syrupy and sticky toffee caramel ingredients cause cavities, and stain and damage your teeth while their high sugar content is a sure-fire recipe for diabetes!
Infertility
Poor oral health and infertility in women are both linked with each other. Gum disease is known to cause infertility and can create complications during pregnancy.
Cancer
Poor oral health puts patients at risk of cancer of the kidneys and the pancreas. Smoking leads to oral or throat cancers.
Kidney Disease
Those with periodontal issues have weaker immune systems, making them prone to kidney disease which also affects your heart and bones, and raises your blood pressure levels.
Read on to know more about 3 key issues behind your tooth problems from the best dental clinic in Dubai
3 'root causes' of poor dental hygiene: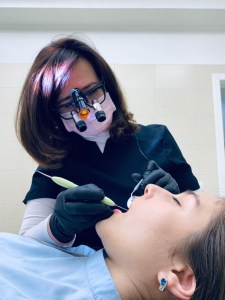 The Bacteria culprits: It's impossible to fend off 100% bacteria growing in your mouth but take care to combat the army of bacteria with proper dental hygiene. 'Tooth bacterium' create what are known as 'multiple acid attacks' on the teeth, through a simple science: feeding on the food in your mouth and then emitting and leaving behind an 'acid waste chemical' that destroys the tooth enamel holding your teeth. This in turn, causes dental cavities.
The Plaque Problem: 'Plaque' is a soft and sticky film that appears faintly yellow and builds up around your teeth, usually 4 hours after you brush. They are usually caused by the sugars you enjoy and that's why it's important to brush at least twice a day as they start forming up after eating. A pl
aque build-up is not good news for your teeth as it eventually starts to harden as 'tartar' around the gumline of your teeth, causing tooth decay and cavities.
Medical issues: Did you know that even having acid reflux can do damage and prematurely destroy your enamel, while increasing your chances of having gum disease? In other cases, even medicines can create side effects such as a 'dry mouth' which lessens the quantity of saliva in your mouth. Saliva is an important natural liquid for your mouth as it helps in aiding digestion of food, while also keeping you healthy by controlling the spread of bacteria.
Wherever you look, from the best dentist in Dubai, to the best Dental clinic in Sharjah, our dental experts at HealthHub Clinics share a few key reminders for good oral hygiene:
Brush and floss your teeth, every day
Avoid these evils: black tea, coffee and red wine
Stub out smoking
Stay away from sugary syrups and snacks
Combine a well-balanced diet with regular exercise
Visit your dentist at least once in two months
REMEMBER: Investing in your oral health, also helps take care of your body!
We are just a smile away! To know more about us, just book an appointment with our best dentist in Dubai at HealthHub Clinics right away on 800 2344.