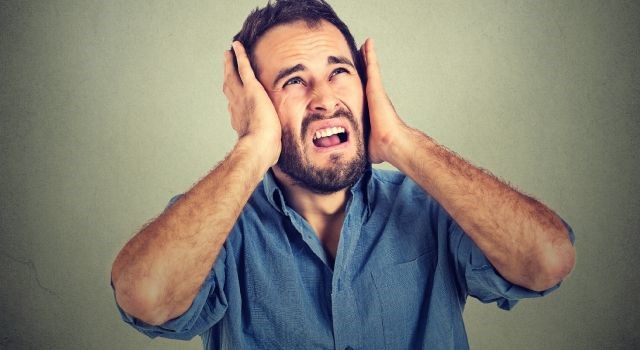 Does your body suddenly tense up as you hear the hiss of a snake nearby?
Does it feel like an annoying bee is always buzzing around you?
When you suddenly realise that these sounds were echoing in your head all along, you're most likely experiencing the symptoms of Tinnitus. However, it's important to point out that Tinnitus is a symptom, not a disease.
Tinnitus occurs when you start hearing 'ringing in head' sounds from extreme noise patterns such as whistling, humming and buzzing. They appear as if they are coming from deep within your body, rather than from outside and are felt especially when you are in a quiet setting.
When it comes to living with tinnitus, different people experience varying degrees of it, depending on the intensity and the cause. It could occur a lot of the time, happen occasionally, or fluctuate between the two. It can occur as tinnitus in left ear or one on the right ear, or both. In extreme cases, your ears could be sensitive to normal everyday sounds and may find, for example, the sounds coming from a TV or radio painfully loud, when it is at a normal volume for people around.
What causes tinnitus?
It has been observed that constant exposure to loud noises, depending on where you work or stay can increase the chances of tinnitus, though it's often one of the outcomes of hearing loss as you age.
It could also be caused by an inner ear infection or wax build-up. If left untreated, they can affect your concentration, cause painful headaches and disturb your social life at home or at work.
Mind your ears: Your headphones can cause Tinnitus…
We can't fault headphones entirely – it's just how you use them.
Everyone loves music, but there are those who end up habitually increasing the volume of the music from their headphones beyond an unacceptable limit…till eventually their hearing suffers, gradually slipping into hearing loss.
Did you know that increasing the volume of your headphones to the maximum level of
115dB (SPL) or over, can cause hearing loss within minutes?
Take care of your ears while you still can.
In a world where noise seems to have grown even louder around us, because of the flipside of technology and its tools, the World Health Organization shockingly reveals that currently, about 50% of people between the ages of 12 and 35 are increasingly getting exposed to long and excessive periods of blaring music playing over their audio systems.
This can have an adverse impact on those already suffering from tinnitus looking for a tinnitus cure. If you haven't gone in for a tinnitus treatment over time, it can lead to more complications such as poor concentration, which can have far reaching effects on an individual's social life and work performance.
What's ironic about all this is that for most young people, being connected to their audio systems while on the move, especially during a walk or a run, is supposed to de-stress themselves but it may do exactly the opposite when attention is not paid as to how one uses it.
Studies even reveal that by the time they reach their mid-life, probably in their early to mid-forties, they will be as hard of hearing as their grandparents are now in their seventies and eighties.
Safe and sound ways to prevent tinnitus:
Try opting for noise-cancelling headphones which can drown out exterior noise in addition to the music playing in your ears.
This can put you in a position of control, as you can lower the volume levels on your headphones thus helping you prevent the chance of developing hearing loss over time and contribute to tinnitus.
The general rule of thumb is to keep your sound levels below 70% when using headphones over the ear. However, if you're using ear pods, then we would suggest keeping it at 60% of the volume.
Among the natural remedies for tinnitus, remember to give your ears a break! When having lunch or reading, you may forget that the music has been playing inside your ears for a long period of time. Avoid playing for long periods of time. And oh yes, you also save up on the power of your device!
Look for free or inexpensive sound meter apps, that can instantly warn you about how noisy the environment around you can be.
Make sure to do a regular check-up of your hearing. This is especially true if you happen to be in your middle-age bracket or are exposed to noise at unregulated levels.
Be alert, keep your ears open! If you start noticing a persistent or worsening ringing in your head, you need to get your hearing checked right away.
Visit your doctor for a hearing test (as part of tinnitus therapy) which checks to see if your eardrums are functioning normally or if there's any damage inside the ear or the blood vessels.
Find the right kind of 'ear protection' that's good for you: among the best hearing aids for tinnitus, there are versatile hearing solutions out there from earmuffs to earbuds and tinnitus ear plugs.
Talk to our ENT specialists or our tinnitus doctors at HealthHub Clinics to find the right solution for your hearing issues by clicking here.
To know more or to book an appointment right away with any of our ear doctors, call 800 2344