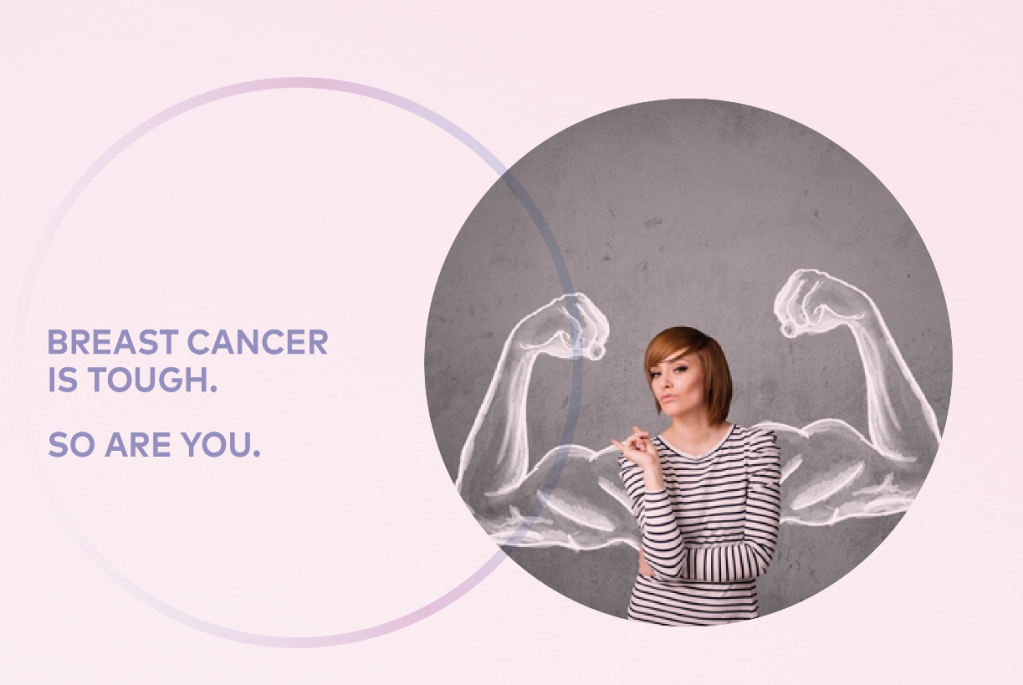 It's Breast Cancer Awareness Month 2022 and at HealthHub Clinics, we believe that early detection of breast cancer is always the safest way to control and prevent its spread for a successful outcome. An early breast cancer diagnosis aided by treatments over time, can open the path to hope and a normal life for patients fighting it.
Across the world, October has been widely recognised as the Breast Cancer Awareness Month in a global effort to raise breast cancer awareness.
Pink is the breast cancer symbol of hope, that's why it's often also referred to as the 'Pink Month'.
Why you shouldn't delay your breast cancer screening.
In the UAE, breast cancer accounts for nearly 20% of all cancer cases. Here's why you need to go in for an early screening and breast examination:
Breast Cancer is the most common cancer in the UAE
1 in 8 women can develop breast cancer in their lifetime
There are no breast cancer symptoms when it's a small tumor and treatable
85% of diagnoses occur in women with no family history of it
What is breast cancer?
Breast cancer is a malignant tumour that develops from the cells of the breast, which grow out of control.
A breast consists of 3 parts:
The lobules which are the glands that produce milk
The ducts or tubes carrying milk to the nipple
The connective fibrous tissue that surrounds and holds everything together
Almost all breast cancers start in the lobules and ducts.
Breast cancer can come in various forms. It all depends on which cells in the breast turn into cancer. When it starts spreading to other parts of the body, it is said to have metastasized.
What causes breast cancer?
Some of the key risk factors that cause breast cancer are:
Family history. The risk increases when close blood relatives or family members have it.
Genetic factors. Studies show that some breast cancer is linked to changes in certain types of
Hormonal factors:

Women who have early periods
Women with delayed menopause
Women who have not had children
Women who have had their first child after the age of
Signs of breast cancer
While examining your breasts, there are a few visible changes you may notice that occur:
A lump or mass, which is the most common sight of breast cancer
An inflammation or swelling on one part
Severe rash and skin irritation or 'dimpling' (which cues an 'orange like texture' on skin)
Sharp pain in the nipples
Redness or scaling on the breast skin
Discharge other than breast milk
If you notice any sign of these symptoms, it's better to consult any of our doctors at HealthHub Clinics who could help you with a breast examination and advise for further investigations, if needed. Do keep in mind that quite often that some of these changes may not necessarily indicate that you have breast cancer.
How is breast cancer detected?
The earlier breast cancer is detected, the greater the chances for a successful breast cancer diagnosis and treatment. Here are a few recommended guidelines for a breast health check-up:
Women over 40 years of age should have a mammogram every year.
Women between 20 and 39 years of age, should have their breasts examined every 3 years.
After 40, it should be repeated every year.
Risk Factors you cannot control:
Most breast cancers are diagnosed after 50 years of age
Women with inherited genetic mutations
Family history
Having dense breasts with thick tissue
Risk Factors you can control:
Staying physically active
Reducing weight after menopause
Avoiding alcoholic beverages
Don't delay, get your screening today!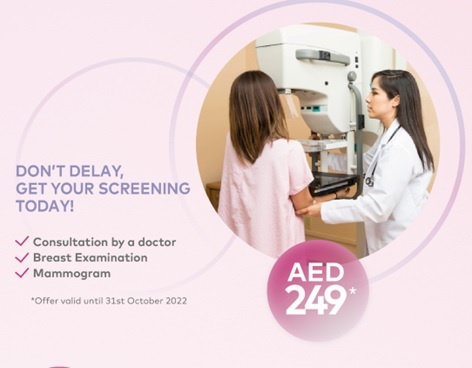 Consultation by our doctor
Breast Examination
Mammogram
AED 249*
Terms & Conditions: * Offer valid until 31st October 2022. * Mammogram scan for both sides
* For cash patients only
Click here to book your screening at HealthHub Clinics today, or call : 8002344.