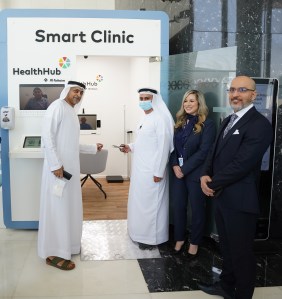 The clinic allows the patient to connect virtually with the doctor to perform guided medical exams
 Dubai – 23 May 2022
 HealthHub Clinics by Al-Futtaim has launched the first 'SMART Clinic' in the UAE, a unique digital and interactive innovation that lets patients perform guided medical exams by virtually connecting them instantly to the doctor, without having to visit the clinic.
Located at the Festival Tower in Dubai Festival City, it allows patients who walk in, to conduct a quick virtual consultation with the doctor. Patients can complete their diagnosis and treatment for many common conditions, from chronic respiratory issues to ear infections, sore throats, fever, cold and flu, allergies, pink eye, nausea, constipation, asthma, bronchitis and common skin conditions, including contact dermatitis, rash, and diaper rash.
The SMART Clinic is an extremely convenient option for chronic patients who can't leave their busy schedule for an instant diagnosis with their doctor, and who urgently need to refill their medication and delivered to home or office. Also, the doctor can advise the patient to go in for further investigation to have an accurate diagnosis. The patient will then have to physically visit any of HealthHub Clinic, to complete the examination. After the final diagnosis, the prescription is generated.
Dr. Haidar Saeed Al Yousuf, Managing Director, Al-Futtaim Health said: "We are very excited to introduce the first SMART Clinic in the UAE. It aims to solve the real-world problem of patients needing instant medical solutions from diagnoses and medicines, by putting the solution within their hands. It's the next radical step in the evolution of self-enabled medical technology, in a space the size of a compact kiosk".
"We are living in an age of continuous innovation, especially in healthcare, where the digital landscape is constantly changing. We keep the doors open to extraordinary technological breakthroughs in patient care at every touchpoint of the patient journey, while making preventative decisions. The SMART Clinic reflects our core brand belief in defining 'A new way of healthcare'," Dr. Al Yousuf added.
Recently, HealthHub Clinics by Al-Futtaim have won in the category of "Service Innovation of the Year" at the Healthcare Asia Awards 2022, for its unique integrated healthcare model that successfully combined smart technology such as the Telehealth services that virtually connected doctors and patients during the pandemic, along with innovative diagnostics and advanced data-assisted systems. Also, in the beginning of 2022, HealthHub Clinics have become the first chain of primary clinics in the UAE to be internationally accredited for its patient safety and high-quality healthcare services offering.