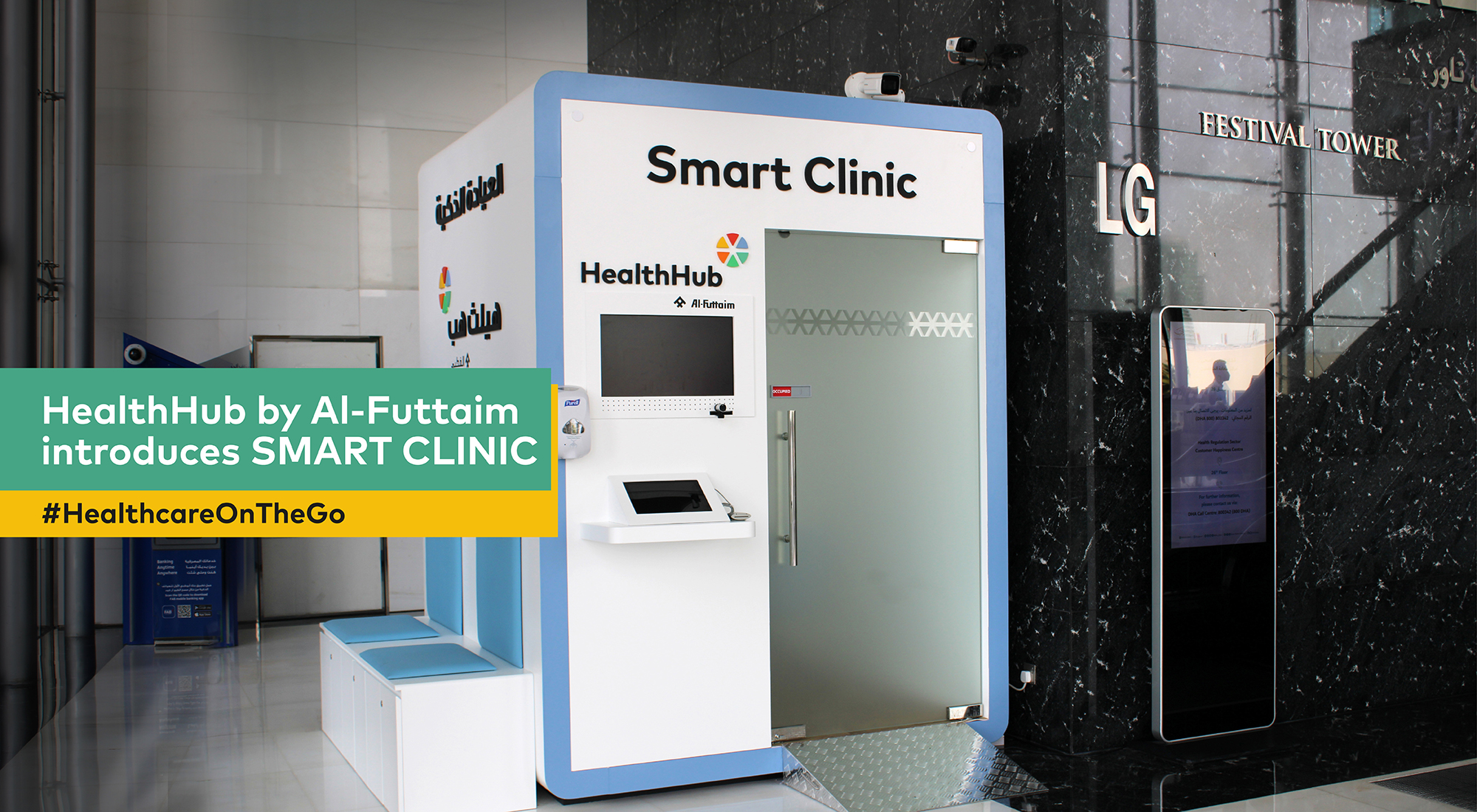 SMART CLINIC #HealthcareOnTheGo
HealthHub by Al-Futtaim introduces its first SMART CLINIC, a unique digital and interactive innovation that lets patients perform guided medical examination by virtually connecting them instantly to the doctor, without having them visit a 'physical clinic'.
Located at Al-Futtaim Group Tower in Dubai Festival City, it allows patients who walk in, to complete their diagnosis, treatment, or request a refill of their medication for a wide range of chronic and common illnesses.
It aims to solve the real-world problem of patients needing instant medical solutions from diagnoses to delivery of medicines, by putting the solution within their hands. It's the next radical step in the evolution of self-enabled medical technology, in a space the size of a compact kiosk.
The SMART CLINIC is an extremely convenient option for chronic patients who can't leave their busy schedule for a follow up appointment with their doctor, and who urgently need to refill their medication. Through the telehealth consultation at the SMART CLINIC kiosk, the doctor can also advise the patient whether further investigation is required to establish an accurate diagnosis. After the final diagnosis, the prescription is generated and sent directly to HealthHub pharmacy, to be later delivered to the patient's doorstep.
Through your visit to the SMART CLINIC, our doctor can address many common conditions:
Chronic respiratory issues
Ear infections
Sore throat, fever, cold and flu
Allergies
Pink Eye
Nausea
Constipation
Asthma
Bronchitis
Dermatitis, rash & diaper rash
Just visit the SMART CLINIC located at the Lower Ground Floor, Festival Tower, Dubai Festival City,
complete your diagnosis and treatment in minutes and get back to your busy schedule while avoiding long queues!
800 AFHH(2344), Toll-Free Number
For any medical emergencies please call 998.
Al-Futtaim Health Head Office
Sun – Thurs: 9:00 am – 5:00 pm
info.healthhub@alfuttaim.com
Tel : +971 4 596 7000
Address: Festival City Mall, Mezzanine Floor, Opposite IKEA,
Dubai, UAE
PO Box: 152
Get Direction
Do you have any inquiries or suggestions? Let us know and we'll get back to you.